Sat, 1 October 2005
Jo Ann and Stacy Show Listener Feedback for Survivor Guatemala Episode 2
Hello Survivor Fans!
We're doing something a little different this week. We're thrilled with the listener responses that are coming in this season. There's so much good info at times that we really need to break up the show into a couple of segments. Otherwise, our show about what happened and why on Survivor each week would end up being about twice as long as the actual TV episode. :)
Here's our first ever segment dedicated to listener feedback focused on Survivor Guatemala with some specific details on episodes 1 and 2.
In this episdoe we hear from Bill, Sharon, Shelley, Sandi, Gloria, Craig, and a special audio segment from Drew.
Bill starts us off with a possible link to the tree that hit Blake in episode 1. Here's a picture of Cryosophila Stauracantha AKA "The Give and Take Tree" that we found with a Google search.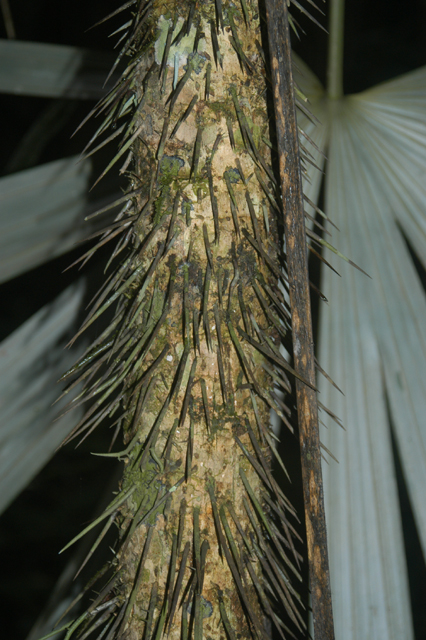 Now, here's a framegrab from episode 1 of the tree that fell on Blake.
What do you think? Is it a match? Check the links section below for more info and where Bill found it.
Here's a picture we put together to help us think about Sandi's question. :)
We love listener feedback. You can call and leave a voicemail at 206-350-JASS(5277). You can record an audio comment on your PC and send it to us via email at
joannandstacyshow@gmail.com
. With either of those options, we'll include your audio right into the show.
You can also send us your input as a normal email and we'll read it into the show when we record. Lastly, there's a link for comments on the webpage here. You can click that link and leave your picks for the biggest losers and most likely winners right on the page for all to see.
Here's a link to the music we played on tonight's show:
Luna Clipper's Theme by Fumitaka Anzai
Show Notes
00:00 Date for iPod Shuffle Users
00:05 Intro Music: Luna Clipper's Theme by
Fumitaka Anzai
00:51 Introductions
01:09 It helps if you press record
03:00 Bill's points us to info on
The Give and Take Tree
05:33 Sharon's Feedback
06:08 She likes the return of Steph and Blobby Jon
06:50 Another Lydia Fan
07:23 Lydia needs a hip replacement
08:42
The Yaxha Alliance
10:15 Watch out for Brian
11:13 Shelley from Australia Sounds Off
12:12 She's not keen on the return of Steph and Blobby Jon
13:35 An Auzzie version of Survivor
14:18 Georgia Sandi asks, "are Steph and Blake related?"
15:36 She doesn't care much for Brandon
17:00 Why's Brianna Invisible?
18:30 Morgan's Exit Wasn't a Surprise
18:49 Rafe the Trainwreck
19:15 Morgan on Rafe's Goof
19:45 Morgan: the only one to know how to use flint
20:50 Sandi on Cindy, Danni, and Judd
21:46 Gloria to Margaret, "Quit Pampering Them!"
22:36 Gloria's Latest Attempt to get on S12
23:20 Gloria and Katrina
24:16 Craig in Australia
24:35 The journey's the best part
25:31 Do they use body doubles?
27:54 A Suggestion on Structure of the Podcast
28:40 Drew in Utah
30:03 Like's the return of Steph and Blobby Jon
30:34 Drew meant slow in a different way
31:33 Some perspective on Rafe and LDS
34:55 The danger of stereotypes
35:40 You can be devoutly religous and win
36:14 Consider how well
Neleh Dennis
did in S4
37:20 Ashley was just a quitter
39:40 Drew applied for Survivor 6
41:39 Morgan says she was a victim of editing
42:22 Yaxha had sick people too
43:38 The JASS Production Studio
44:25 Jo Ann's a wiggleworm
45:15 Contact Information
46:36 Outro Music: Luna Clipper's Theme by
Fumitaka Anzai
Links for Today's Show
Reference to Give and Take Tree Theory
Morgan on the Yaxha Alliance
Survivor Live
podsafe music network
Contact Info:
Voicemail:
206-350-JASS(5277)
Email:
joannandstacyshow@gmail.com
Enjoy, Jo Ann and Stacy
---